@colekincart
Last Friday, Feist took the stage at The Radius, delivering an exceptionally contemporary concert experience that felt more like a larger piece of art than a typical live performance. The show was a perfect balance between deeply orchestrated and thematic, yet highly organic and intimate, showcasing Feist's musical prowess and her genuine connection with the audience.
As a devoted fan, I already knew that this show would be something deeply special, especially considering how much Feist's latest album has meant to me. While I enjoyed Feist's earlier work, such as the full-blooded record "Let It Die," her recent album was the one I had been eagerly waiting for. It exuded deep tenderness, reflecting a place of sorrow, growth, compassion, and loneliness. Despite its experimental nature, Feist excels in airy experimentation, allowing silence to speak for itself. Some may critique its airy and unfinished sound, but I believe that the abstraction and intangibility of her thoughts and feelings necessitate an open space for interpretation. It is clear that Feist, like all of us, is still figuring it out as we go.
The wealth of emotion embedded in her songs is a consequence of two profoundly life-altering events in Feist's personal life: the birth of her daughter and the death of her father, both occurring just before the global disruptions of early 2020. In a recent interview, Feist mentioned that the songs off "Multitudes" started out as tender lullabies that she would sing to her newborn daughter. This context lent an even deeper resonance to the concert experience.
What initially sparked my interest in the show was the unique setup—a small, round stage placed in the middle of the venue. While it may have seemed inconvenient, this arrangement was necessary to fully comprehend the message that Feist ultimately conveyed—creating something deeply special, timeless, authentic, and touching.
During the middle of the show, Feist seamlessly transitioned into a captivating bit involving a "lost" journal. The journal was delivered to her by a moving cameraman, and as she read selected entries, it became apparent that this journal was hers, as she spoke from the heart. With a corded microphone in hand, Feist walked among the crowd, eventually reaching the main stage, where a huge white sheet dropped to reveal a five-piece band.
The second half of the set featured a more traditional concert experience, beginning with tracks from "Multitudes" and smoothly transitioning into crowd favorites like "My Moon My Man" and "Sea Lion Woman." The culmination of the concert came with a mature, developed rendition of the iconic "1234."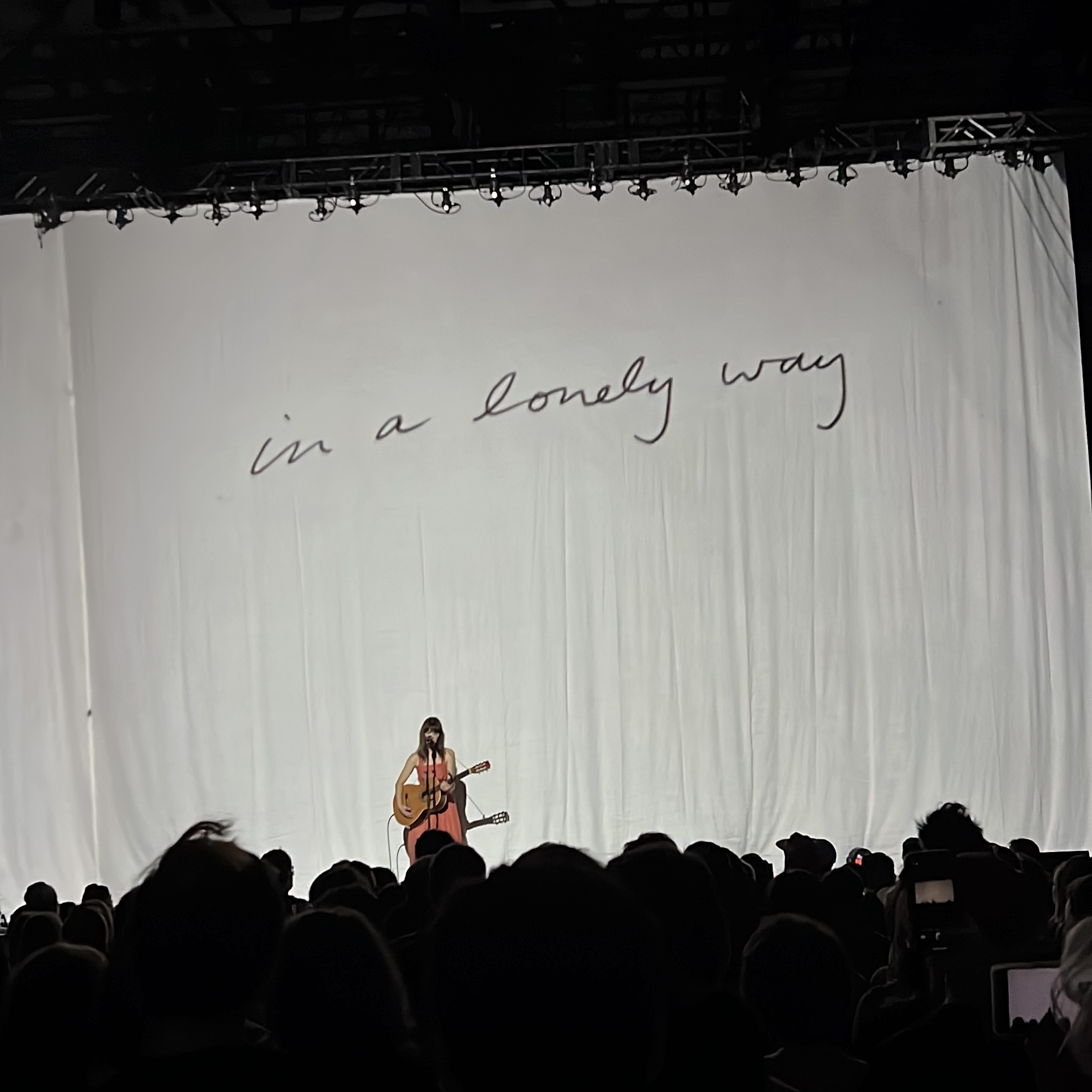 Given the nature and unpredictability of the show, I genuinely had no idea if Feist would perform an encore. Initially, I was disheartened since my favorite song from the new album, "Love Who We Are Meant To," had not been played. However, after a few suspenseful minutes, Feist pulled a white curtain from beneath the stage and reappeared with a guitar and a green blanket. The blanket acted as a projection screen, creating a mesmerizing visual feedback illusion. She gracefully weaved through the crowd while performing "Of Womankind," eventually lying down on the floor in a near-fetal position. With this hauntingly beautiful performance, Feist truly embraced vulnerability and raw emotion.
Closing the night, she returned to the main stage for one last song, "Love Who We Are Meant To." This touching track explored the intricacies of love and alluding to it's bittersweet nature and acknowledging love existence in a lonely space.
Feist's concert at The Radius was an unforgettable experience that transcended the boundaries of a typical live performance. Attending this show on Friday, which marked the conclusion of my Finals week for the spring semester, felt like a timely and profound experience. Maybe the reason I found myself resonating with the album so much was due to my yearning for moments of stillness and tranquility amidst life's chaos. Amidst the busyness of recent months, this concert became a much-needed respite, providing a comforting evening of solace and much-needed downtime. As the lights turned on, illuminating the venue, I instantly knew that this would be the most extraordinary concert experience I had ever witnessed.