@colekincart
Last Thursday night, Geese graced the stage at Chicago's renowned Lincoln Hall, marking the opening night for their latest EP, "4D." The band, hailing from Brooklyn, New York, is known for their genre-blurring approach to music. Their latest EP, "4D," is another chapter in their creative exploration, as it offers an extra collection of songs that extend the sonic journey initiated by their most recent album.
The set began with a flurry of applause and cheers, as Geese launched into some of their fan-favorite songs. "I See Myself" and "Disco" were early highlights, captivating the audience with their intricate melodies and dance-inducing beats. It was evident that the band had a profound connection with their audience, which I attribute, in part, to the band's unique utilization of a Keytar—an instrument not commonly seen these days.
One of the most intimate moments of the evening came when Geese introduced a new track from their "4D" EP, "Killing My Borrowed Time." A tour debut, the song's experimental soundscapes showcased the band's continued commitment to pushing musical boundaries and evolving their sonic identity.
The setlist also featured "Cowboy Nudes," a favorite of mine that has become synonymous with Geese's musical journey. With its bright melodies and captivating rhythms, it encapsulates the band's ability to craft songs that resonate with a wide audience.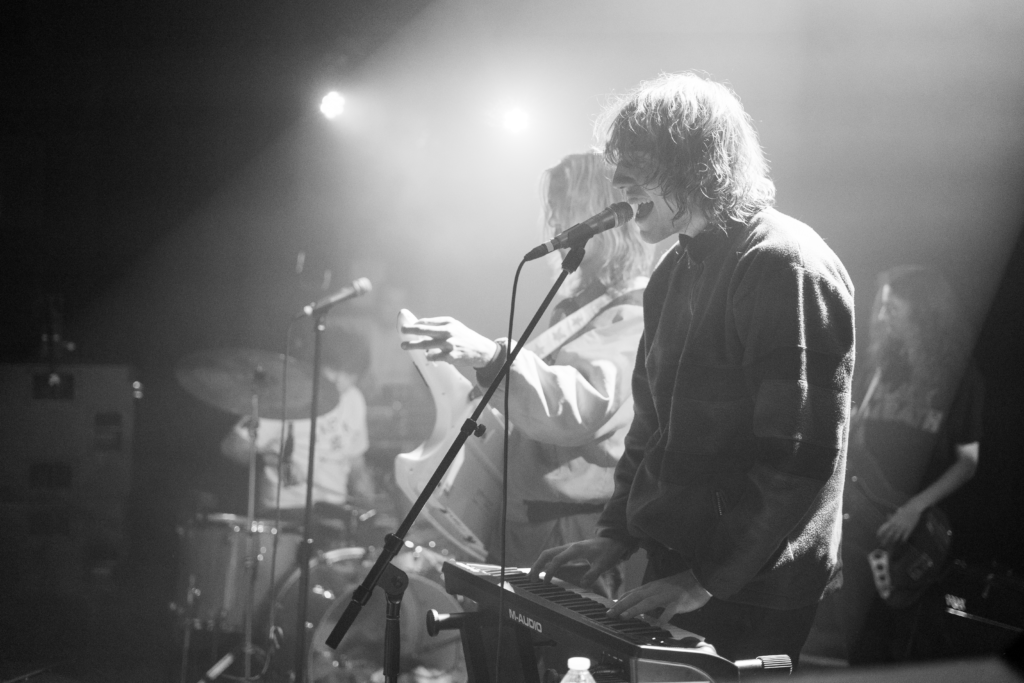 Geese's latest album, "3D Country," which serves as the inspiration for the "4D" EP, represents a significant shift in their sound. The album takes the listener on a sonic journey that feels bright, colorful, and at ease, with a playful sense of goofiness. Elements of post-punk, proggier hues, and a newfound emphasis on melody contribute to the album's distinct charm.
What sets "3D Country" apart is its audacious and funky take on the iconic NYC Talking-Heads CBGBs punk sound. This album radiates a refreshing authenticity, unburdened by excessive self-seriousness, making it a standout in its own right. Its seamless transformation from punk vigor to a casual jam band atmosphere represents a compelling experiment, one that I hope more artists will take inspiration from. "3D Country" has earned my deep admiration and a permanent place in my musical rotation due to its charisma, creative prowess, and absence of pretentiousness.
Geese's performance at Lincoln Hall was a testament to their ability to flip the script on pretentious genres, infusing their music with a sense of fun and accessibility. Their experimental approach and Cameron Winter's charismatic leadership truly worked wonders, leaving the audience with an unforgettable 4D experience. The evening was a vibrant celebration of Geese's ever-evolving sound and their ability to connect with their fans on a profound level, making it a night to remember.
For those eager to embark on their own Geese-inspired journey, don't miss the chance to listen to their latest album, "3D Country" on Partisan / Play It Again Sam.