@colekincart and @amelia.moseman
This weekend, two of our MDs here at WIIT had the pleasure of seeing Hippo Campus and Jelani Aryeh perform live at the Riviera Theatre on Friday, February 19, 2022.
Starting off the night was Jelani Aryeh, an exciting up and coming performer, hailing from the suburbs of San Diego. Jelani gained recognition in 2017 for his EP, Suburbia Destinesia, a solid, breakout hip/hop and indie infused album that paired perfectly with the rise of the "Bedroom Pop" craze that took the internet by storm at roughly the same time.
In 2020, Jelani furthered his sensation with the release of "Stella Brown." A nostalgic-sounding, yet very catchy track that hit the scene during the onset of COVID. To some extent though, this timing of release helped the track garner more attention. Since many people were stuck at home, "Stella Brown" immediately became a hit that many found on their own (or with the help of Spotify's algorithm) while pervasively searching for new music, to keep their ears distracted from the current state of the world.
This past summer, Jelani released his first full-length album, I've Got Some Living to Do. It's a collage of indie-inspired, r&b, soul, psychedelic, and everything in-between, jams that perfectly capture the eagerness to get out of the house and live in the moment.
As Jelani began to perform, you could tell he was just as excited to play his own songs as all the fans were to hear them. Since this was his first tour, there was a sense of excitement and genuineness as well as an element of casualness in his performance, something that you don't see very often. He was truly just excited to be there. That said, it was such a delight! Throughout the set, he kept asking the fans in the front for the best pair of sunglasses to wear while he sang.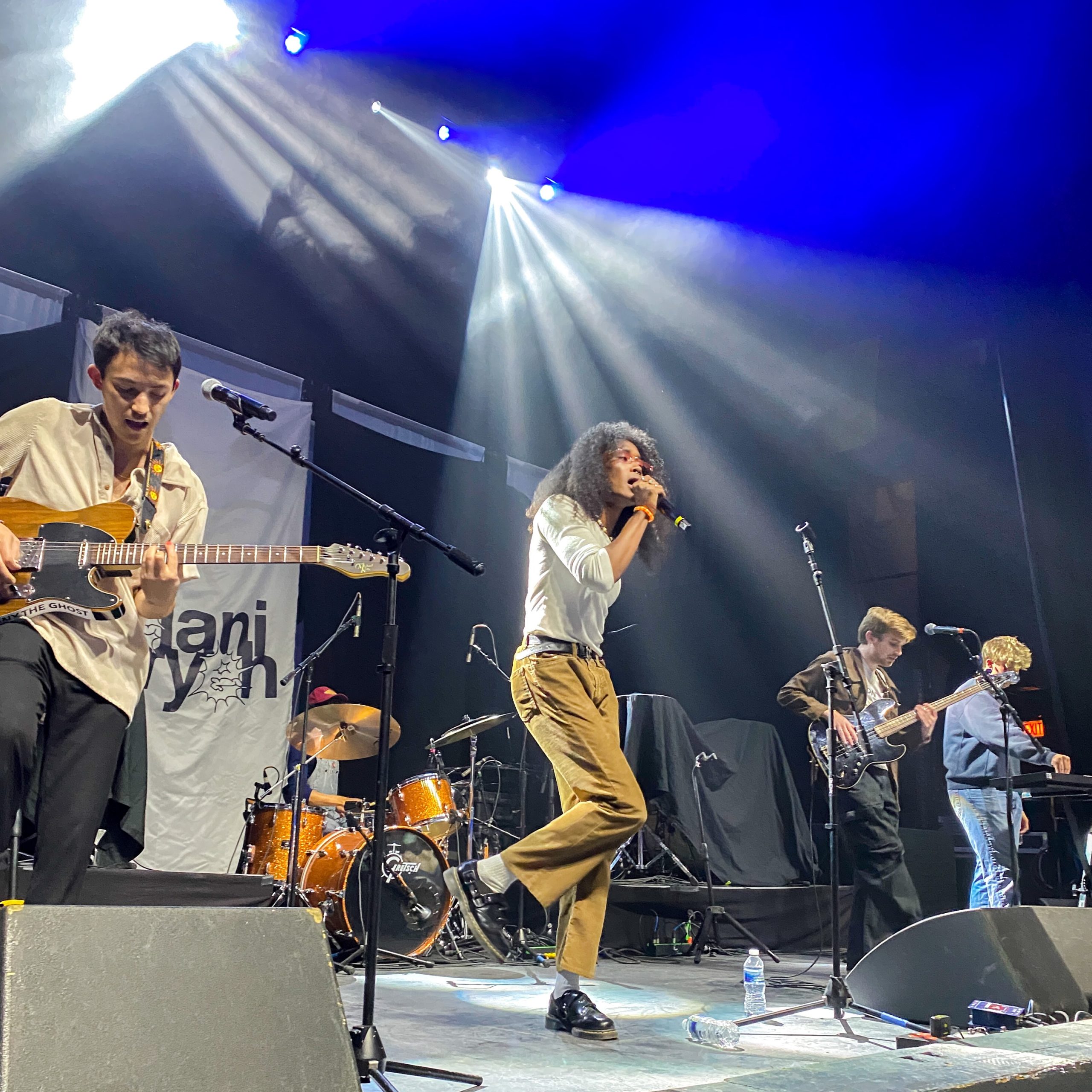 "Stella Brown, I don't know what to talk about/How has my head just hollowed out?/Thoughts used to orbit all around"
To close out his show, Jelani performed "Stella Brown," a slightly obvious, but nonetheless amazing closer. Fans began to collectively sing along while helping those who weren't familiar with the lyrics to join in, too. It was a great way to end his set and get the crowd excited for the next act.
After eagerly waiting, it was time for Hippo Campus. Hailing from St. Paul, Minnesota, Hippo Campus is an indie rock/outfit consisting of members Jake Luppen (lead vocals/guitar), Nathan Stocker (lead guitar/vocals), Zach Sutton (bass/keyboard), Whistler Isaiah Allen (drums/vocals) and DeCarlo Jackson (Brass). Hippo Campus is on tour supporting their two latest releases. Their latest album, LP3, hit streaming services a couple weeks ago and their Good Dog, Bad Dream EP came out late last summer.
When Hippo Campus took the stage, they performed the lead track off their album, "2 Young 2 Die." LP3 is solid, well-defined album that encapsulates almost everything about Hippo Campus up until this point. It is a culmination of all their past sounds, with some signaling to where they might go next. Throughout the album, you can hear nods to inspirations such as Vampire Weekend, Bombay Bicycle club and the Last Dinosaurs. Similarly, you can hear influences from the St. Paul scene itself.
Thematically, Hippo Campus continues to do what they do best—with a unique twist. LP3, the title itself, remains somewhat shallow yet self-referential. Spanning themes of loneliness, self-discovery and youthfulness, Hippo Campus takes what they do best and continues to run with it. However, themes of existential dread are added into the mix. As one can imagine, this dread probably came along sometime during the height of COVID.
The time and dedication spent on this album really shines through in the complexity of the production. Compared to Bambi–their sophomore album, which took a more experimental route–LP3 combines their early roots with experimental production, really showing their arc as a band.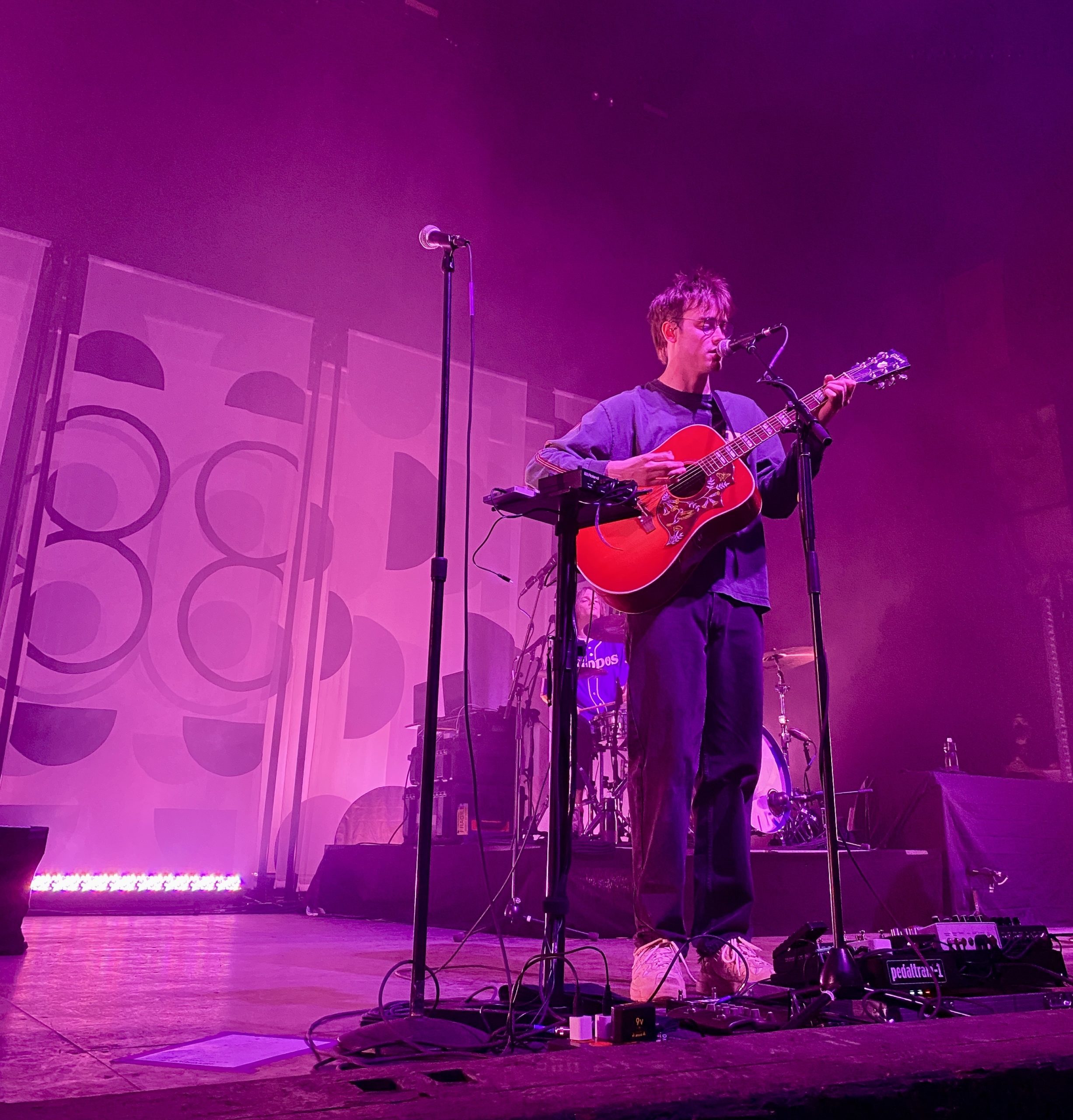 Throughout the show, Hippo Campus mostly stuck to songs from their latest discography additions. As someone who has been a fan since the early EPs, I was bummed I wasn't able to hear more of their earlier stuff. That said, after the show ended I was grateful they played most of the new album. I'll be able to appreciate LP3 more fully as I listen to it the new couple of weeks. As lead singer Jake Luppen said at the beginning of the show, "This is only the second time we've played a lot of these songs for other people." Quite frankly in retrospect, it feels very intimate knowing that this tour is the first time they're playing many of these songs.
The crowd was still treated to fan-favorites such as "South," "Baseball," "Warm Glow" and a new fan-favorite, "Sex Tape." I will admit, hearing Jake Luppen's voice live was such a blessing! There were occasional segments throughout songs—such as "Warm Glow" and "Boys"– where we were simply in awe of his performance and range.
As Hippo Campus wrapped up the night, they ended the show with the two last tracks on the album, "Boys" and "Understand"–both which happen to be my favorites.
With LP3, Hippo Campus has cemented themselves in the mainstream indie scene–they're here to stay. For me personally, the lyrics of Hippo Campus have always been about the duality of chasing and reminiscing youth. As I've grown up, their music has remained just as pertinent and personal.
"Ain't got nobody to blame/All this time down the drain/I'm the best at insane"
You can listen to the Hippo Campus album here.