@colekincart
Last Sunday, Kansas City trio, The Greeting Committee played a sold-out show in Chicago at the Subterranean. Currently, they're on the road promoting their latest album, Dandelion. Thanks to the band, WIIT had the pleasure of hosting a giveaway for our listeners and DJs.
As someone who had been listening to The Greeting Committee since their infamous 2015 EP, It's Not All That Bad, I was extremely eager to see them perform live. That said, they did more than deliver a great show.
Dandelion (released last September) is Greeting Committee's latest installment. Holding true to The Greeting Committee sound and spirit, the band furthers their emotional depth through indie-rock inspired tunes. That said, there is a newly found emotional maturation that makes this album stand out from the rest. Lyrically and sonically, listeners can pinpoint the coming-of-age eagerness.
As the band took the stage and roped the audience in, Addie waited eagerly to sing the intro track off their latest album–Can I Leave Me Too?
It's a theme that continually resurfaces throughout the album. I spent most of the night thinking about the lyric, If you leave me, can I leave me too?
Song after song, lead singer Addie Sartino, kept the crowd dialed in and wanting more. They performed a versatile amount of music, spanning the entire depth of their discography. Fans were blessed with tracks such as Beginning Middle End, 17 and Pull It Together.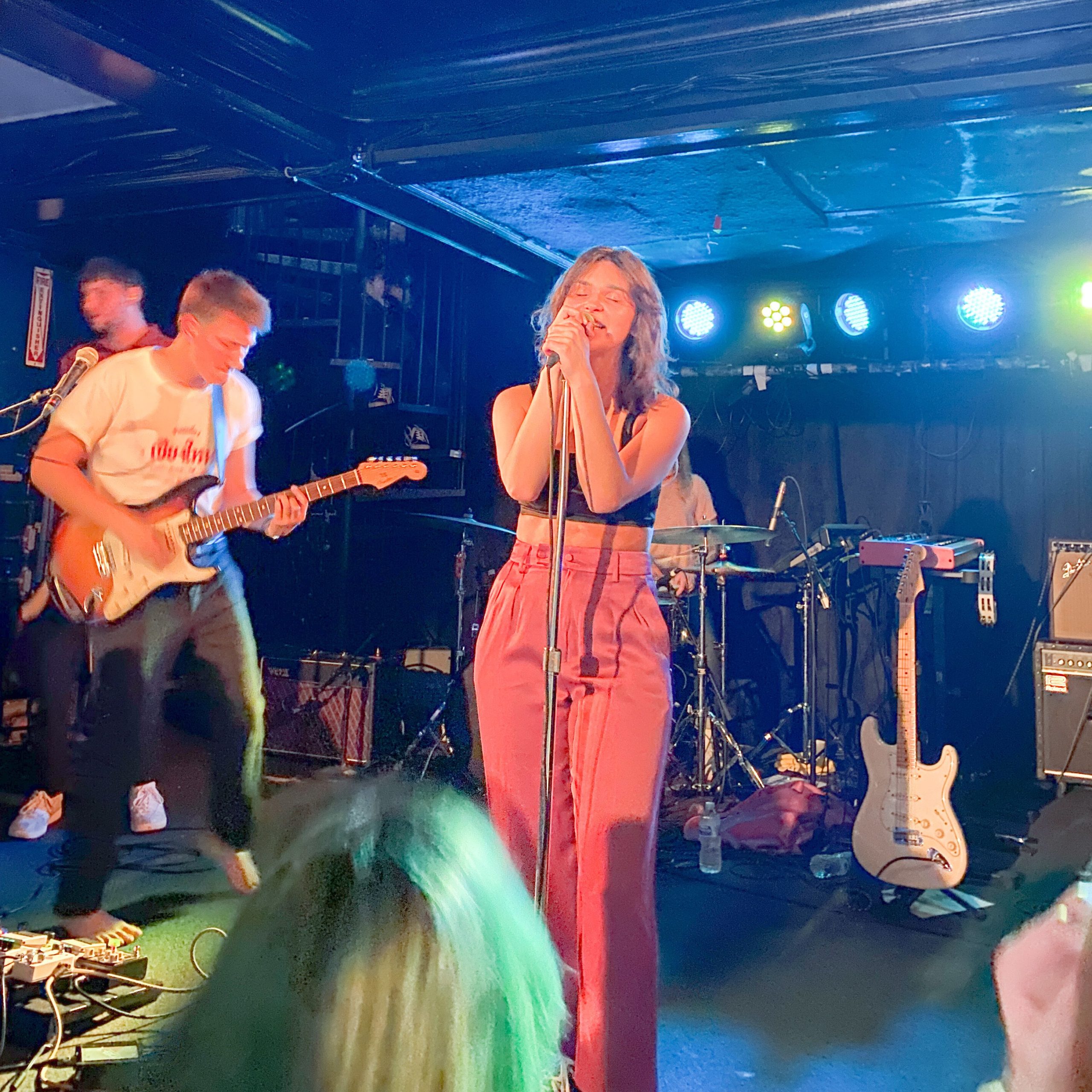 Arguably one of the best parts of the show was when the band left the stage as Addie performed fan favorite, Elise. Considering it is a mellow, acoustic driven track, I wasn't sure whether they'd perform it. However, it was easily the best part of the night. As the song took its course, the band came back on stage and slowly transitioned into All Too Well, a Taylor Swift classic. That will forever go down as one of my favorite concert moments ever!
Finally, performing the tracks Hands Down and She's a Gun, the band concluded their set with a visceral encore. From mosh-pits to stage dives to guitar solos, Greeting Committee was a full-blown blast.
Addie Sartino was joined onstage by Brandon Yangmi (guitar), Pierce Turcotte (bass), and Noah Spencer (drums).
You can buy/listen/stream their album here!