@mantha.maee
I'd heard Dayglow a few times before, and can tell they're pretty up and coming in the indie/alt world. When I saw they were having a show at Schubas Tavern, I knew it was gonna be a good one. Dayglow is a pretty young band, but one of those bands with a cool sound you want to drive down Pacific Coast Highway listening to. They seem to be on everyone's playlist these days whether you know it or you don't.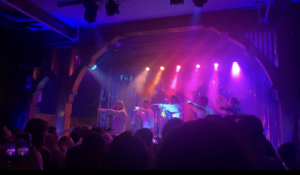 I had no idea what to expect from the band, but I guess I assumed they'd be the more indie, to themselves type. I was definitely wrong about that, as they began the show with a full blown dance routine to pair nicely with their multicolor set. It felt like the Doodlebops for a hot minute (if you remember that hit Disney show from 2006), but it was fun and refreshing. They opened with a nice long synth intro to one of their top songs, Hot Rod. The crowd was super dancy, which is always really fun. Still always shocked by how much dancier people in Chicago are, compared to my home town LA.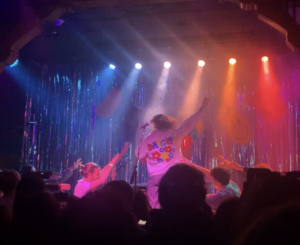 Their set was really diverse, and they played nearly every song on their album Fuzzybrain. Speaking of which, their song Fuzzybrain is such a vibe live. I closed my eyes and just took it in— maybe because my brain was a little fuzzy from the delicious tavern beer— but nevertheless a vibe. The band also played a new song for us, which is always a treat. The song 'Medicine,' speaks about having to help someone you aren't really into anymore. Yikes. The band did a beachy cover of Tears for Fears' "Everybody Wants to Rule the World," which I didn't know I needed.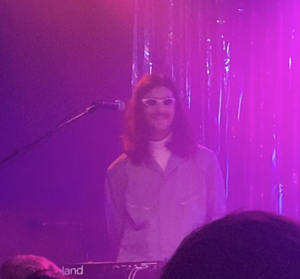 Their lead guitarist and singer Sloan Struble urged everyone to appreciate the people around us, because of the uncertainty surrounding the incoming virus. He had the audience members shake hands with those around them— though that seems kind of counterintuitive looking back. Regardless, it gave us all a pretty close-knit, warm feeling. Overall I was super satisfied with their youthful, quirky set and I'm looking forward to future shows at Schubas.