@colekincart @genna__gee
In order for a concert for an artist to have the best live-show experience possible, there's several things that must be taken into account. Whether it is crafting the right setlist, generating the right energy, or not holding back, Indigo De Souza was able to get it all done.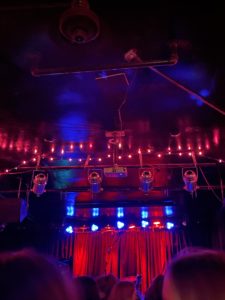 Still riding the wave of critical acclaim and praise for her sophomore album, Any Shape You Take, Indigo De Souza delivered a compelling performance that feels familiar yet refreshing, all while making new strides. Beat Kitchen was the perfect venue to host the North Carolina native band. They performed two sold-out nights and offered fans an intimate show glistened with happiness, desperation, and everything in between.
Starting off the set with an unreleased song, "Younger and Dumber," I can already tell we are in for a treat. As fans begin to collect themselves after the first song, we begin to see the cathartic range of emotions displayed by De Souza and her bandmates. Genna and I felt the energy build within the crowd and it was truly an experience to remember.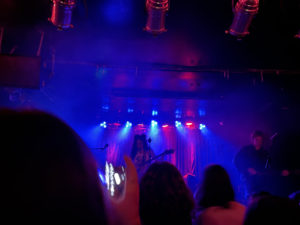 Whether it was screaming, jumping, or shying away from the mic, it is clear that Indigo's music is personal. The pure love and support from the crowd radiated the passion Indigo was displaying. In fact, the emotions from the crowd were so prominent that we found ourselves in the middle of a mosh pit at the end of the show. Simply said, it was epic.
Although there were nods to some of the fan-favorites such as her first album "I Love My Mom," Indigo's setlist mostly consisted of songs from her latest installment. De Souza's recent album remains youthful ang genuine like her last, however something about this album is different. The complex themes of heartache and relationship troubles, paired with her seasoned unapologetic self confidence offers a bold and compelling piece of work.
Combining elements of funk, punk, and rock, Indigo on-stage presence is hard to ignore. Constantly smiling and thanking fans as they shout their praises, you can tell Indigo is very happy to be where she is. Indigo had every right to be ecstatic with the amazing set she performed. We look forward to her ever increasing success.
You can listen to Indigo De Souza's new album out now on Saddle Creek Records.