@amelia.moseman @genna__gee
Loony was a production. We were absolutely ecstatic to go to our first show for WIIT and let's just say the night did not disappoint. Before Loony came on, Ebony Loren opened the show. She's a local artist that has accumulated a growing fan base thanks to TikTok. Ebony was supported by a DJ and showed off her skills with her baby blue guitar. She held a dreamy presence with both her voice and lyrics which explains why Genna and I were swaying the entire set.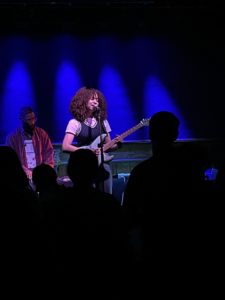 After her set we took a short intermission to venture to Jeni's Ice Cream, as any sane person would, but made it back just in time for Loony. The crowd got closer and closer to the stage and you could feel the anticipation in the air. In fact, midway through her show Genna leaned over and said "Yeah, she's definitely the main event." 
For those of you who haven't heard Loony, imagine the vocal-child of Adele and Billie Eilish mixed with the instrumentals and vibe of SZA. But really, you should just listen to her because it's hard to make the right comparisons; part of her strength is her unique sound.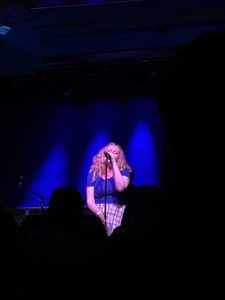 After some research we discovered she is going on tour for her new album this fall which explained the nature of this show. For a local, cozy, tavern venue, Loony's entrance was fresh and exciting. Her performance had the production and talent of a larger event but offered the intimacy and personality that can only be fostered by a venue like Schubas. We also began to follow Loony on Instagram and DM'd her thanking her for the wonderful show which she replied to! She's a performer that's down to Earth and you can tell she's passionate about what she does. 
To start the show, she had a pre-recorded intro that included some voice recording as well as colorful lights that changed for each song. This introduction really set the mood of the show and kept us on our toes.
One of the best parts of the show was her band. Not to undersell LOONY and her talents but Genna and I were both appreciative of the live band. After the performances prior to LOONY, they added a realness to her music, not to mention they were incredibly talented. 
Overall, Schubas hosted some wonderful musicians and those musicians put on some wonderful sets. We loved every moment of it and cannot wait to hear of their growing success.