@mantha.maee
Pitchfork Music Festival has a sense of dualism that fits in a way I never would have expected. You have the quintessential midwest hospitality with cicadas screeching, ice cold lemonade shandys, and indie boys. Then you have the head banging-mosh pitting-Sear's Towering-helicopter droning-urban grunge. The music has the same sense of dualism, with vibey indie rock, rap, and hard rock being the three vastly different options each hour. In a lot of ways, this festival was an ode to its host city, Chicago, with its varying neighborhoods and weaving cultural ties that transcend through the music it produces. It makes for a unique experience every single show, and it is entirely impossible to get bored, or want to miss a thing. Will I forever curse Pitchfork for putting Thundercat at the same time as Yves Tumor? Yes. But, alas, there are worse problems to have at a festival.
Photo Courtesy of Alexa Viscius, Pitchfork Staff Member
Shoutout to Mairead for attending Pitchfork with me, we're both super stoked to be sharing our experience at the festival below. 
Day 1
DEHD
"…I knew quickly that this was going to be a good weekend"
Sam: I didn't know DEHD beforehand, so had no expectations. But, as soon as we walked in I heard a comforting beach-rock 'Loner' and sang the lyrics. I did in fact know DEHD, just not by name, and I'll never make such a careless mistake again. DEHD was eccentric and invigorating, the perfect start to Pitchfork 2021. I loved the rhythm changes the band produced and they have that 'Twin Peaks' Chicago indie rock vibe. Their lead Emily Kempf has a coolness and individual sense that I have mad respect for. After this set, I knew quickly that this was going to be a good weekend. 
Mairead: Pitchfork was my first ever music fest and DEHD was the first artist at Pitchfork we saw. A great start to see a local band from Chicago. They have a chill summer vibe but also a unique sound. I had never heard of the band before the festival but I am excited to listen to more of their music after the fact.
DJ Nate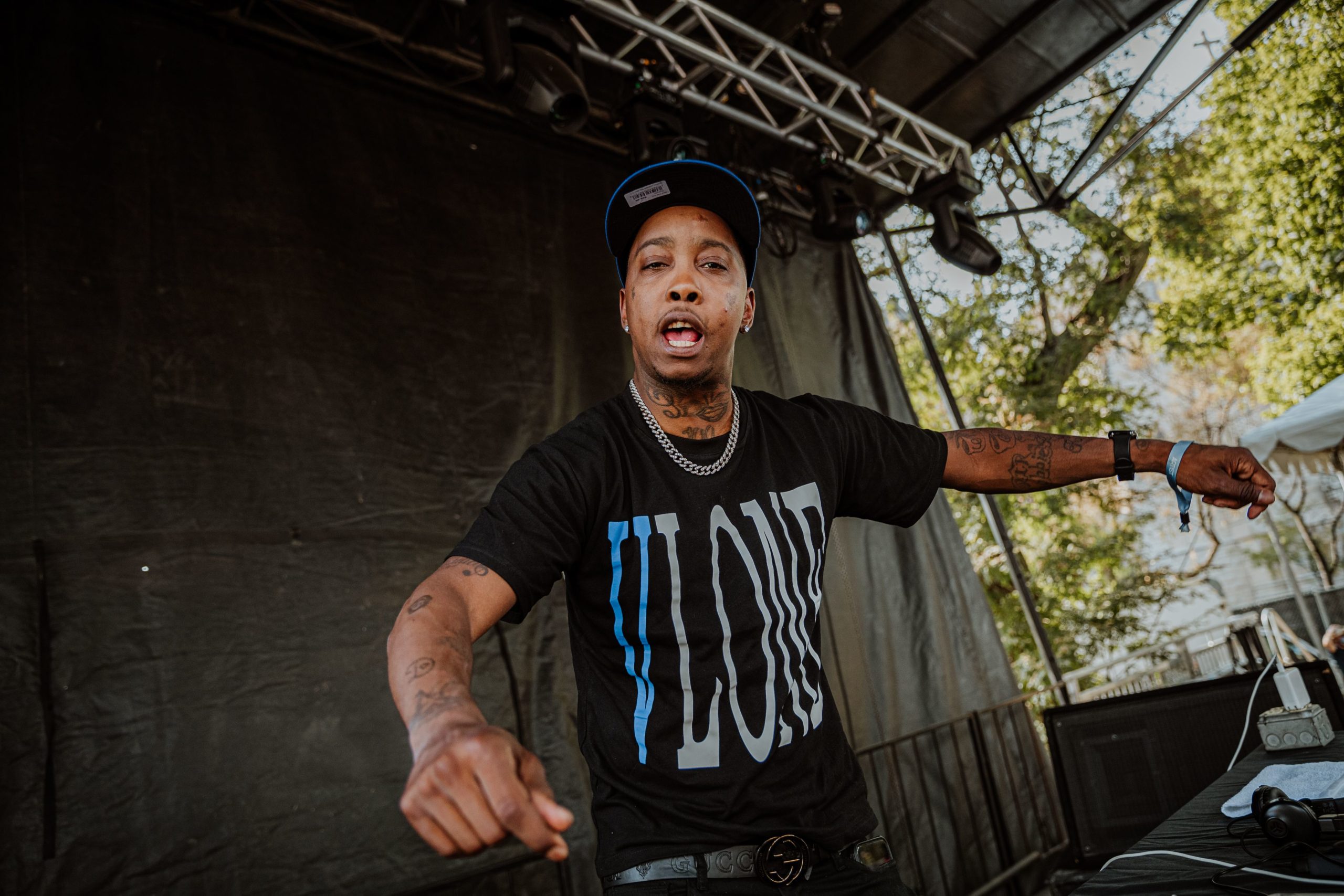 Photo Courtesy of Julian Bajsel, Pitchfork Staff Member
Sam: We hopped into this set for a few minutes to check out the Blue stage. DJ Nate, a Chicago native artist, was going off with his beats. He had a blend of electronics and rap that he weaved together nicely. Ultimately great to get in touch with other aspects of the Chicago music scene, including his Juke tracks, with roots in the Chicago house scene. 
Hop Along
Sam: Hop Along was another new one for me, and I appreciated their ~undercurrents~ female lead punk-rock. A good genre, and a good band. I have few other thoughts but that.
black midi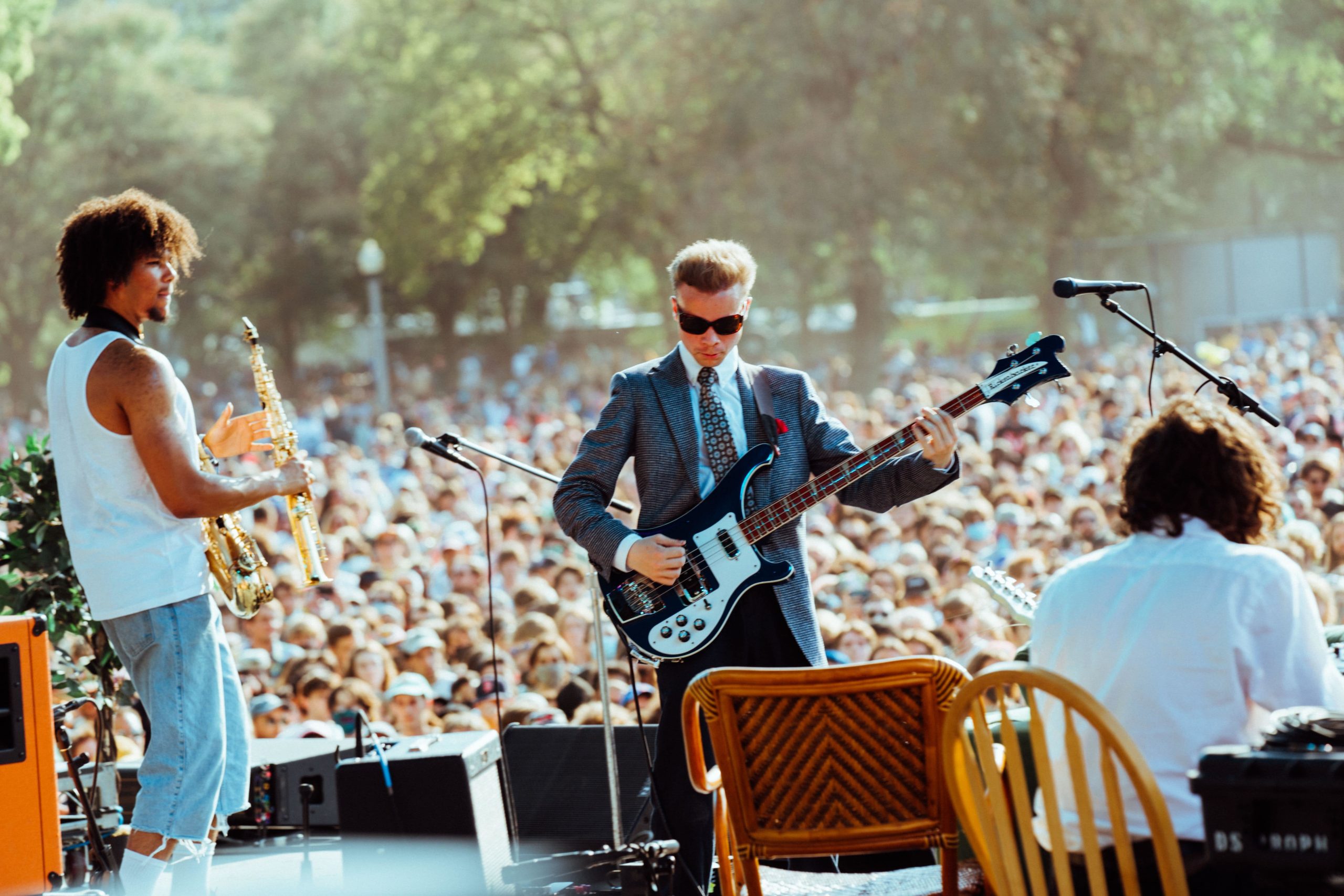 Photo Courtesy of Jackie Lee Young, Pitchfork Staff Member
"I was not expecting to mosh to saxophone."
Sam: Well, I got my mosh fix at black midi. It's been a long time since I've moshed(: Math rock is a whole vibe, and I was not expecting to mosh to saxophone. The crowd was aliveee this set, matching the energy of this group with their fascinating stage set up and costumes. I came prepared, wearing my steel toed Doc Martens, and only later suffered physical ailments from a small cold after being banged around in the pit (which I can confirm was NOT Covid-19). Ultimately worth getting dirt out of my nose for 3 days and the pain of almost losing my pinky toe-nails from wearing steel toed boots all day. 
Mairead: Obsessed absolutely. black midi was so fun. They came on stage carrying a velvet green couch and with wildly varying aesthetics as one member was wearing a suit jacket and another no shirt. However, once they picked up they're instruments they didn't stop playing until the set was done. I would describe their music as noise, saxophone, and minimal lyrics. I didn't partake in the mosh pit but definitely had a great time jamming out in the regular crowd. I will definitely be following their tour schedule.
The Fiery Furnaces
Sam: We stan a Chicago born synthy sister-bro duo. Their set was really fresh and it made me feel renewed after the mosh pit, bringing a lightness to the day. Elenor was a really played down, chill lead singer, evident by her all white fit and laid back aura. I dug it. And I always love an electric synth – jazz induced set. 
Big Thief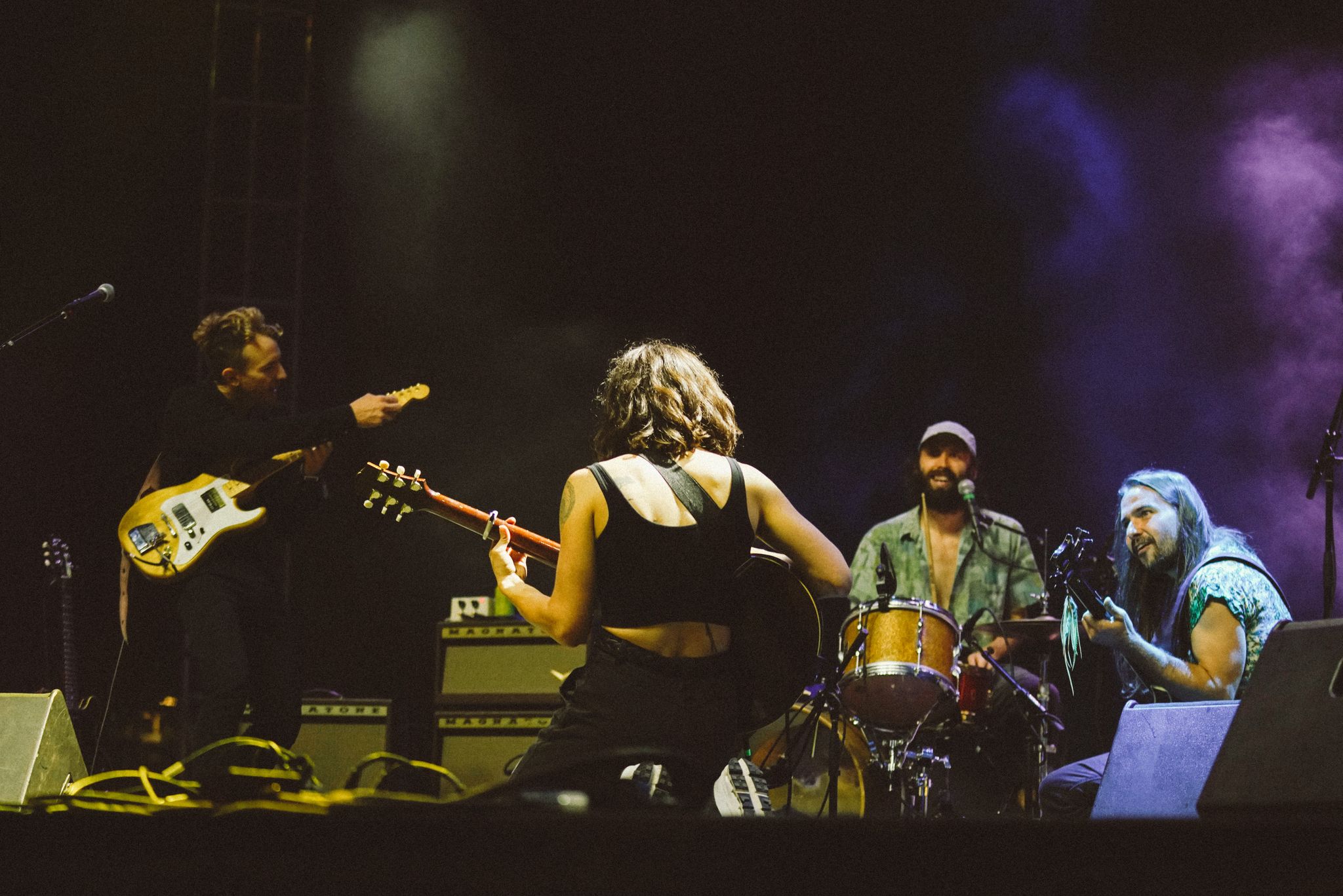 Photo Courtesy of Alexa Viscius, Pitchfork Staff Member
"…felt like both a blanket of warmth and a bandaid being ripped off of my heart at once."
Sam: Man what can I say. Big Thief is my Top Artist of all time (verified with a Spotify stats website) and this show was a long time coming. I am an Adrienne Lenker superfan, as she is an underspoken, enigmatic, and poetic queer musician. I wish we could be friends, and I'd have dinner with her if asked who to choose dead or alive. Masterpiece got me THRU a significant portion of college, so seeing Big Thief post-covid isolation during my senior year felt both essential and right. It was supposed to happen this way, maybe. We waited for a while at the front of the stage, eager to be enlightened by the dynamic duo – Adrienne and Buck. Sidenote/ go check out Buck Meek and Adrienne Lenker's solo projects. They're incredible. 
The band did a good mix of older tracks, and threw in a few new songs like 'Certainty' and unreleased songs that I CAN'T WAIT to hear recorded. They played some cult classics, like 'Masterpiece' and 'Not' (ugh, 'Not' blew me and everyone else away). Then, Adrienne sings 'Mary' ('MARY'!) and her angelic voice paired with the lyrically genius song felt like both a blanket of warmth and a bandaid being ripped off of my heart at once. The day ones in the crowd were simping alongside myself for a few songs in there. 
The dynamism of this set, and the general feeling that Adrienne and the rest of the band were having the time of their lives being there with us brought a sense of warmness and collective enjoyment that you only get every so often during a show. They absolutely shredded during points in the show, and Adrienne's precision on the guitar was fantastic to see in person. I genuinely cannot wait to see the group at future festivals, and I've replayed that show mentally A LOT since watching it. Thank you Big Thief (':
Mairead: I think everything that could be said about Big Thief has been said by Sam but I do have to reiterate that Big Thief was the best set of the festival. There was such a power behind all the songs and the crowd was all into it. The live versions of 'Not' and 'Mary' were incredible. 
Phoebe Bridgers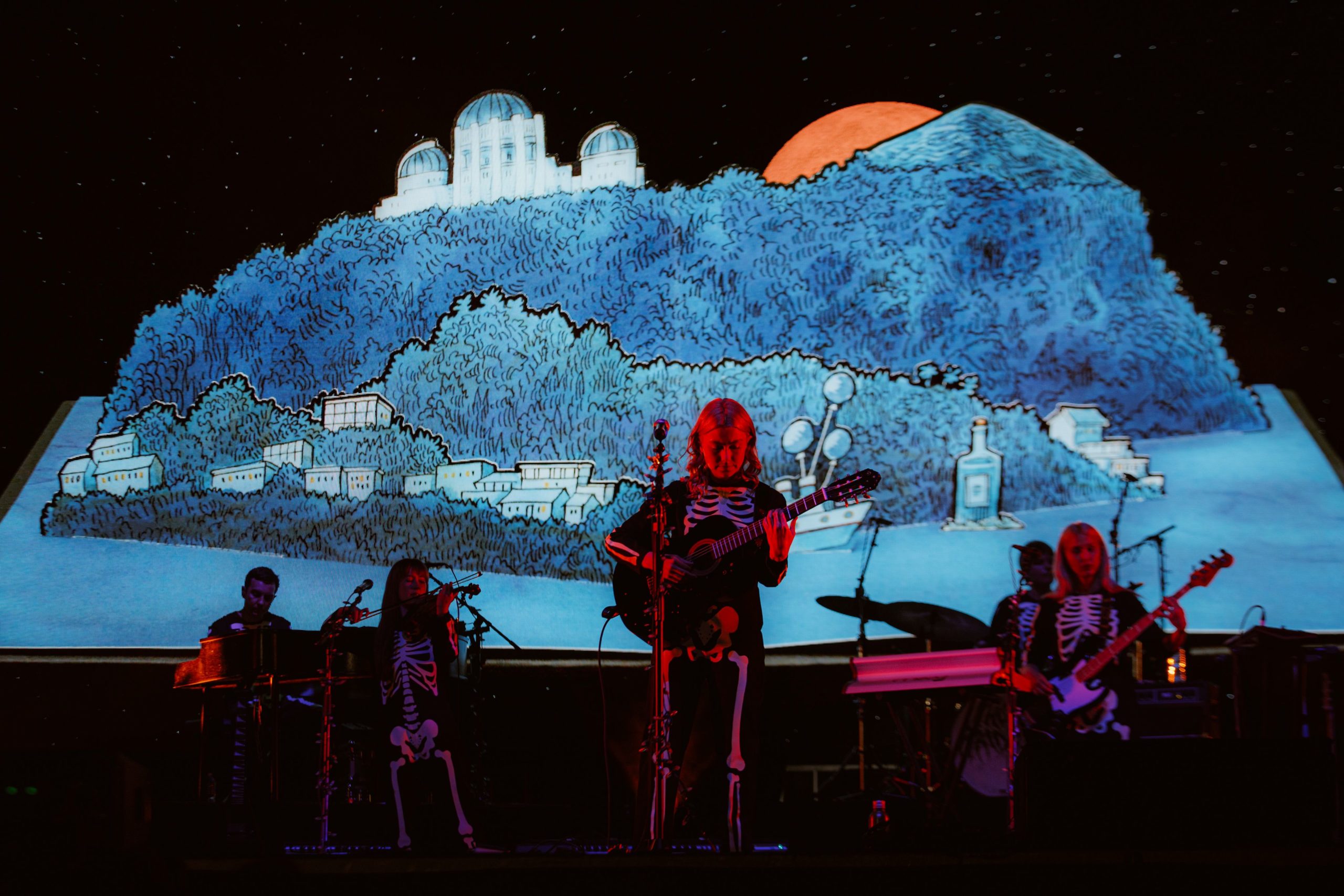 Photo Courtesy of Jackie Lee Young, Pitchfork Staff Member
Sam: I feel out of tune with Phoebe. She comes up a lot on my playlist radios on Spotify, but never quite makes it to the playlists themselves. She's cool though, and getting introduced to her personality at Pitchfork made me more interested in her work, but it's less natural than the other way around, I guess. She's a fantastic singer, and I was surprised with her guitar skillz, but I just still feel like there's some fake depth to her music that I just can't fully embrace. Now it was the end of the night, but it was pretty slow and repetitive for the last big headliner of the night. Maybe she's a better bedroom listen than arena artist, and that's okay too. Also, her cover of Bo Burnham's 'That Funny Feeling' was pretty damn good, and seemed like a good ode to her own youthfulness and presence in indie pop culture. 
Mairead: Phoebe started really strong playing 'Motion Sickness', a real crowd fav, but after that it wasn't as good. I do enjoy a good Phoebe Bridgers' song here and there but I think it is a difficult type of music to get a new crowd into. She is an amazing singer and guitar player but it felt like the crowd was struggling to get into it. I think if we were closer to the stage it would have helped significantly. I enjoyed the cover from Bo Burnham's Inside 'That Funny Feeling' but I agree with Sam that for me she is more of a bedroom artist than main stage at music fest.
Day 2
Waxahatchee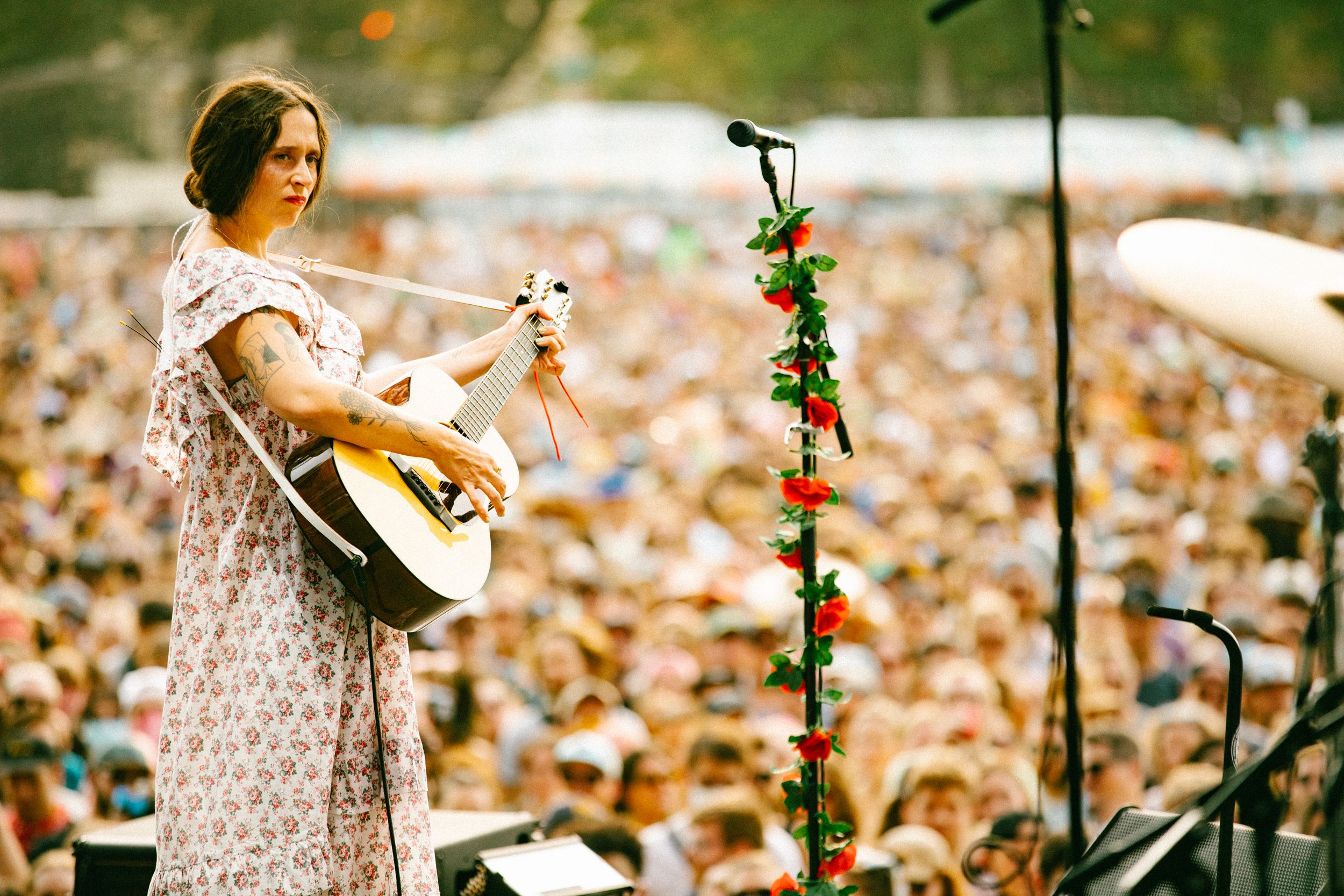 Photo Courtesy of Pooneh Ghana, Pitchfork Staff Member
Sam: So I had no idea that Bonny Dune was the backing band enlisted last year for Waxahatchee. It was wild to jump into Pitchfork Day 2 with 'Long Wave', a song I floated along the California coast listening to all summer. Bonny Dune brought an incredible distortion to Waxahatchee's fairly stripped down songs. A great pairing and convergence of slow folk and rock distortion. We love a blend!
Angel Olsen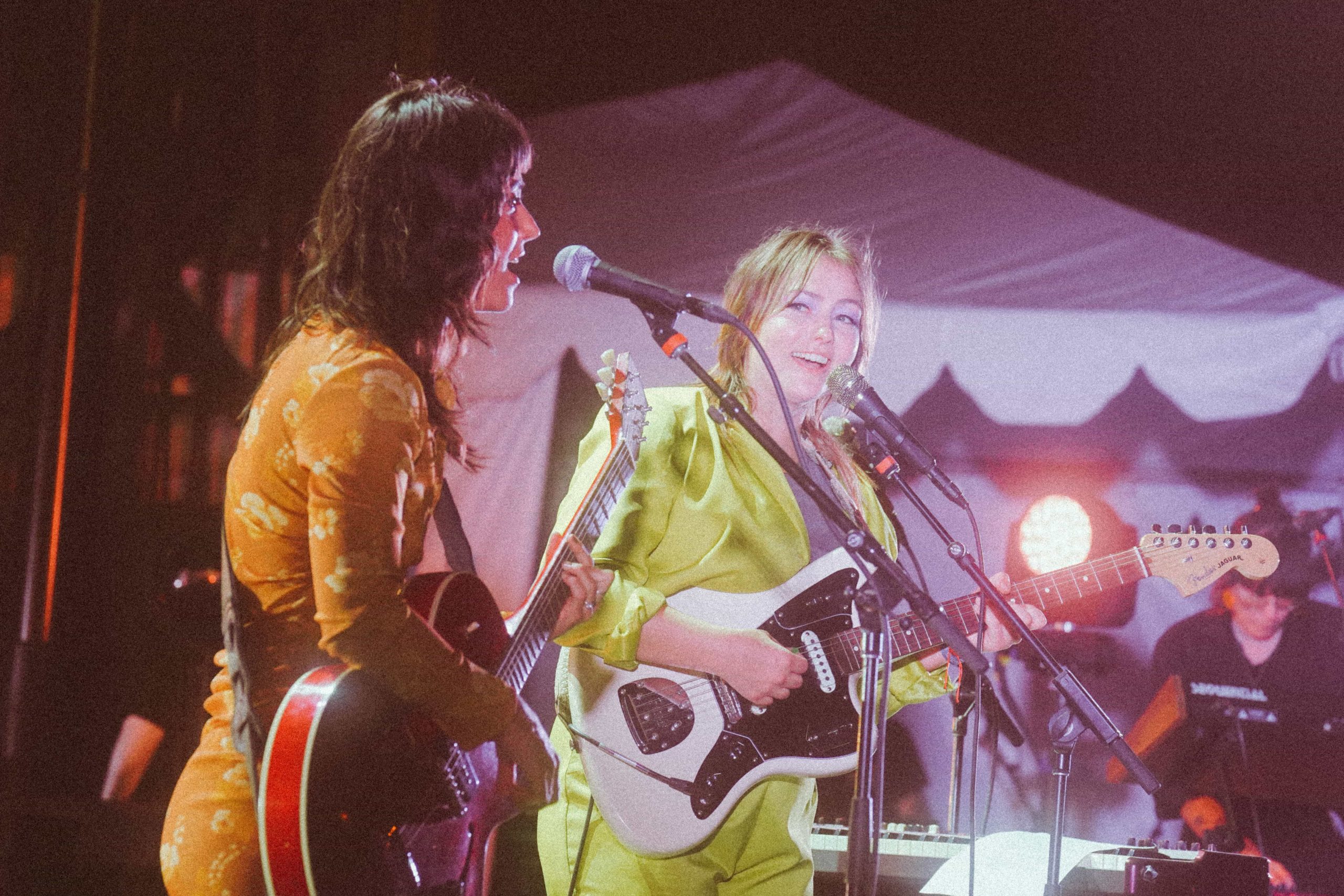 Photo Courtesy of Alexa Viscius, Pitchfork Staff Member
Mairead: This was Angel Olsen's first concert in two years! Incredible. She played so many of her top hits. Definitely the most hype was when she brought on the surprise guest Sharon Van Etten for the last song and they performed their duet "Like I Used To". Another song I have not stopped listening to since Pitchfork. She also has a fantastic cover of Laura Brangidan's "Gloria" which is definitely worth a listen if you haven't already. Her set was in my top three of the whole festival.
Sam: Angel Olsen is a force. She's got her own current, and I felt like there was a mutual respect in the audience for her work. Also, bringing on SHARON? I nearly lost my socks. Thankful to have seen these two iconic alt women banding together. 
St Vincent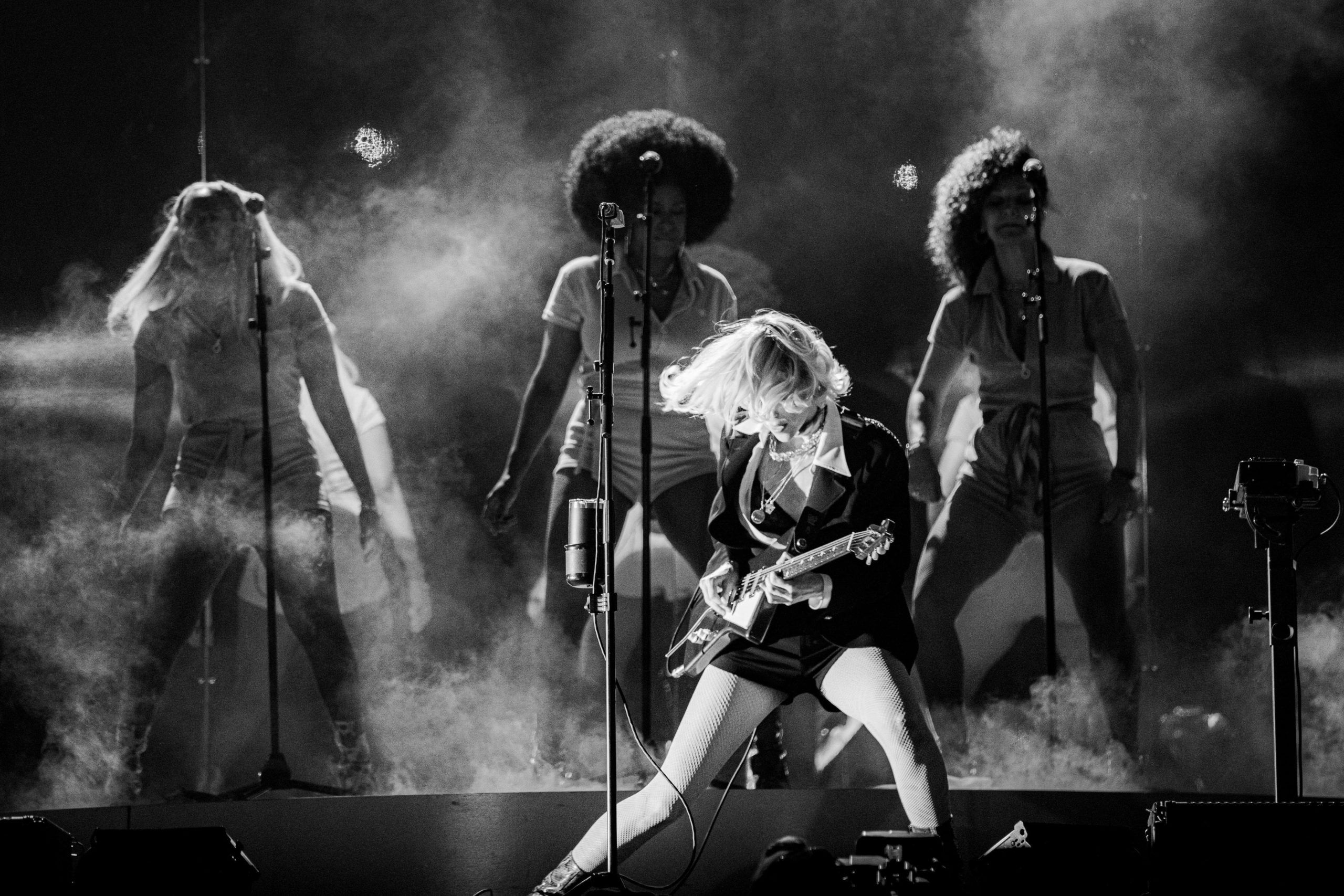 Photo Courtesy of Jackie Lee Young, Pitchfork Staff Member
"St Vincent herself is just generally an icon…"
Mairead: St Vincent was the artist I was the most hyped for at the music fest. She did not let down. I feel like St Vincent's music is something everyone can enjoy whether it's your first time listening or you are a super fan. Her set felt most like a concert out of everyone with full movable sets and little comedic bits sprinkled throughout. St Vincent herself is just generally an icon with amazing outfits and guitar skills. She played many songs off her newest album "Daddy's Home". The one I have been listening to nonstop since being 'My Baby wants a Baby'. Her vocals were incredible live during it. She also played many crowd favs from her old album. 
Sam: St Vincent was a production! She was really living her truth, which I can always get behind. She is, as Mairead put it, an ICON. She's also a Electric Lady Studios regular, and the greatest minds in music seem to end up there at some point. I thought she was the perfect end to the day's lineup, leaving me invigorated for day 3. 
Day 3
Mariah the Scientist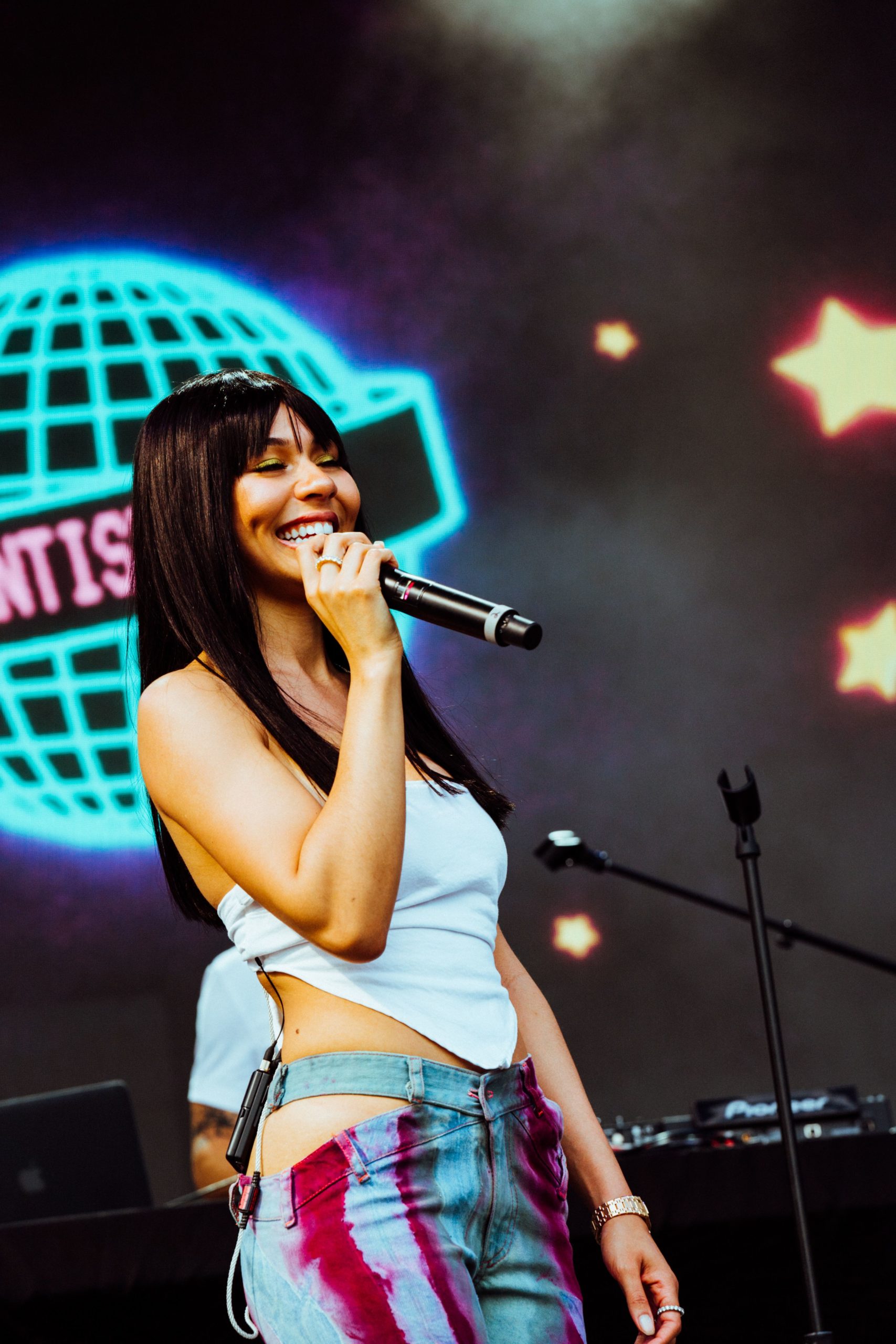 Photo Courtesy of Jackie Lee Young, Pitchfork Staff Member
Sam: Mariah started with a pretty savage cut of Fleetwood Mac. I think she was making a statement about the cult mentality surrounding indie white people's love for Fleetwood, which was kind of funny in hindsight. Her set was fresh and youthful, with songs about love– the good and the bad. She was cynical and joked "I thought y'all loved me, not just Beetlejuice" alluding to people's tendency to listen for songs instead of artists these days. I plead guilty. I recommend giving her a listen. 
The Weather Station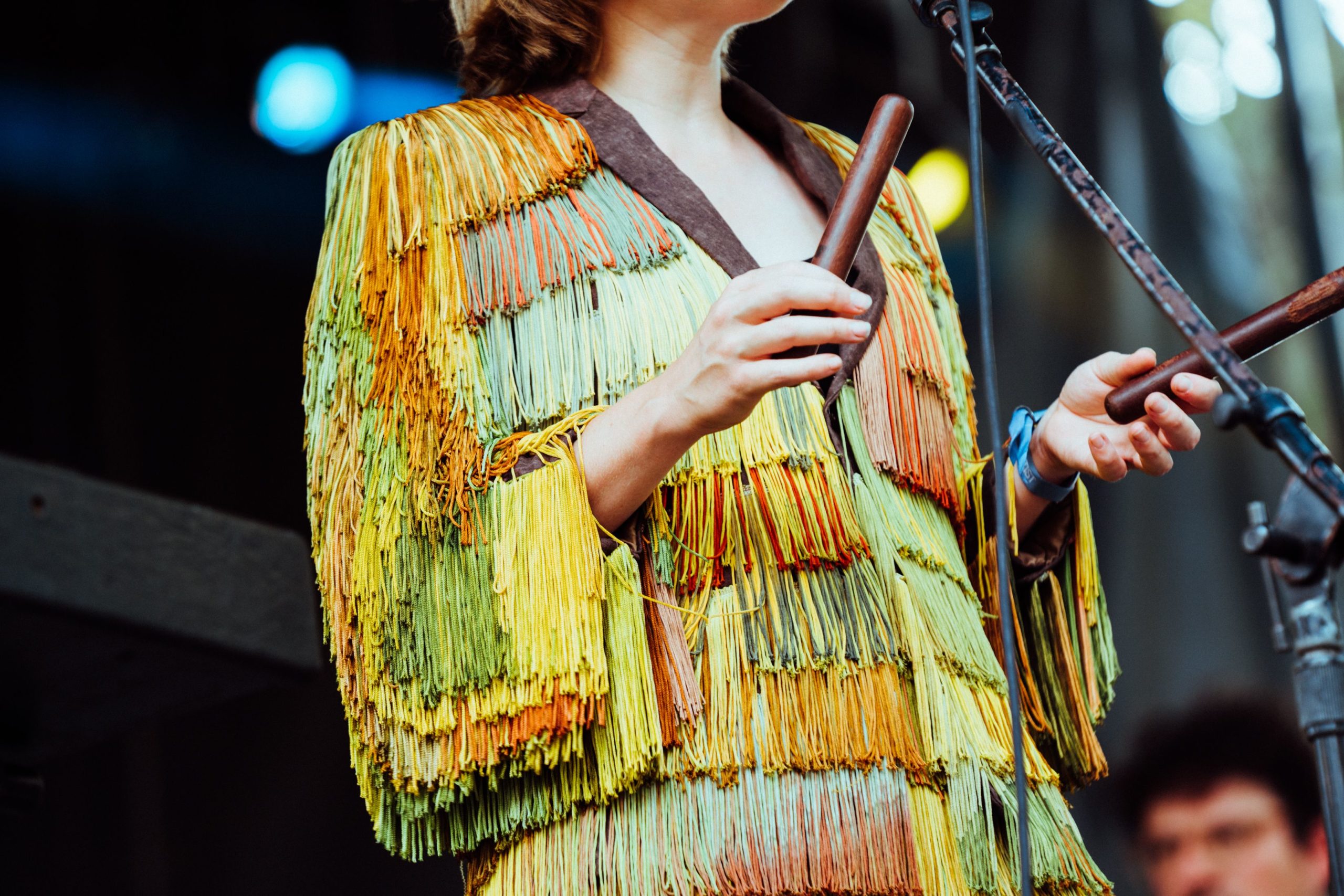 Photo Courtesy of Jackie Lee Young, Pitchfork Staff Member
Sam: Was super surprised by how much I vibed during this set. A very good psychedelic indie band experience, that made me immediately love this group. The lead singer's voice was soothing and natural, and I loved her fringe fit. The group was also pretty experimental, and I appreciated the groove. 
Caroline Polechek 
Mairead: I was excited to see Caroline Polecheck as I had been listening to a cover of her song 'Too Hot You're Hurting my Feelings' religiously since last semester. She played a yet to be released song that had a cool latin guitar sound. 
Thundercat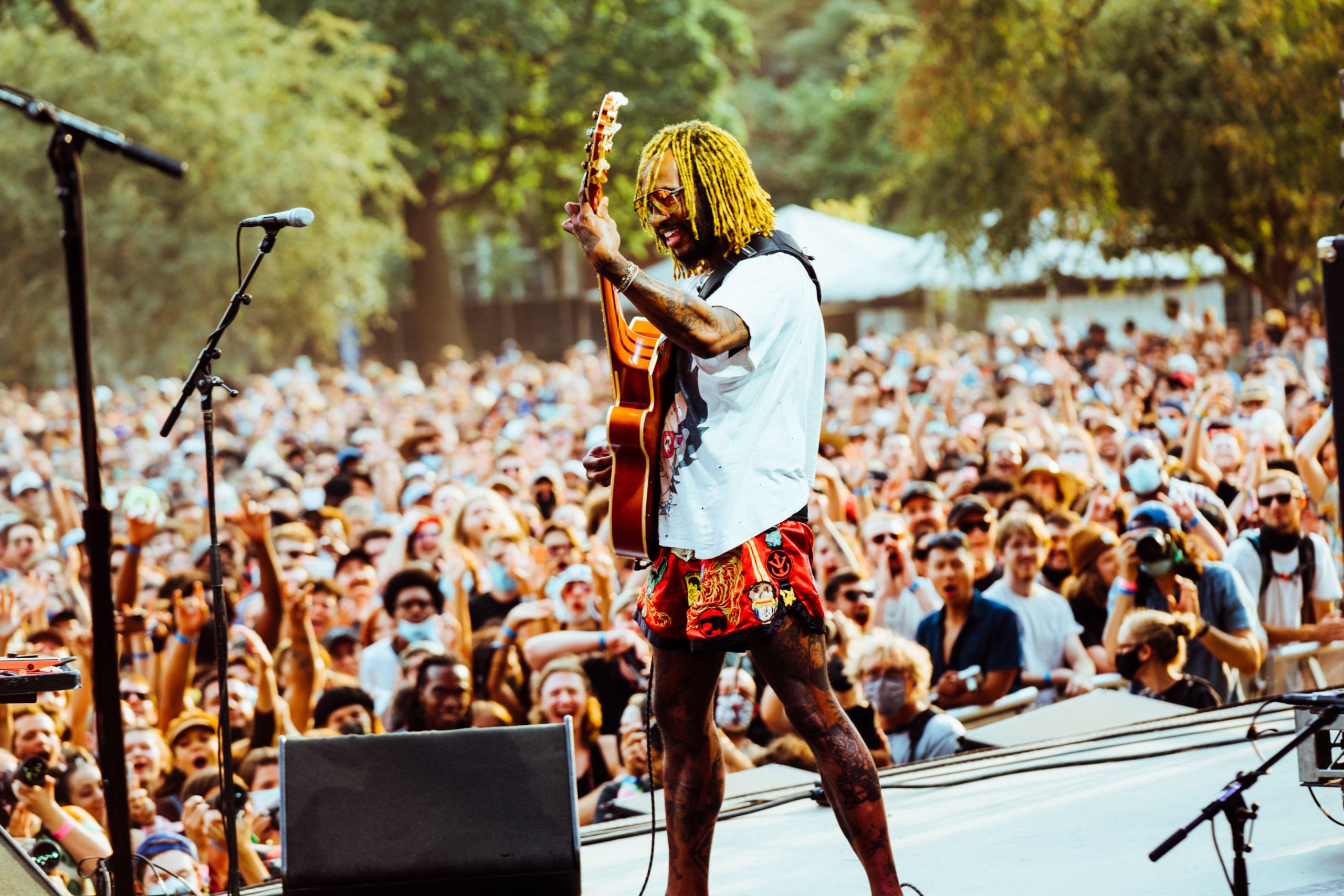 Photo Courtesy of Jackie Lee Young, Pitchfork Staff Member
Sam: Thundercat was talented. They floated through long instrumental solos and are a great listen for rich, blended music. However, I was a bit withdrawn as my attention was on someone nearby who suffered a bit of alcohol poisoning. Hope she's doing okay. Had to leave to see Yves, but appreciated the set for what it was. 
Yves Tumor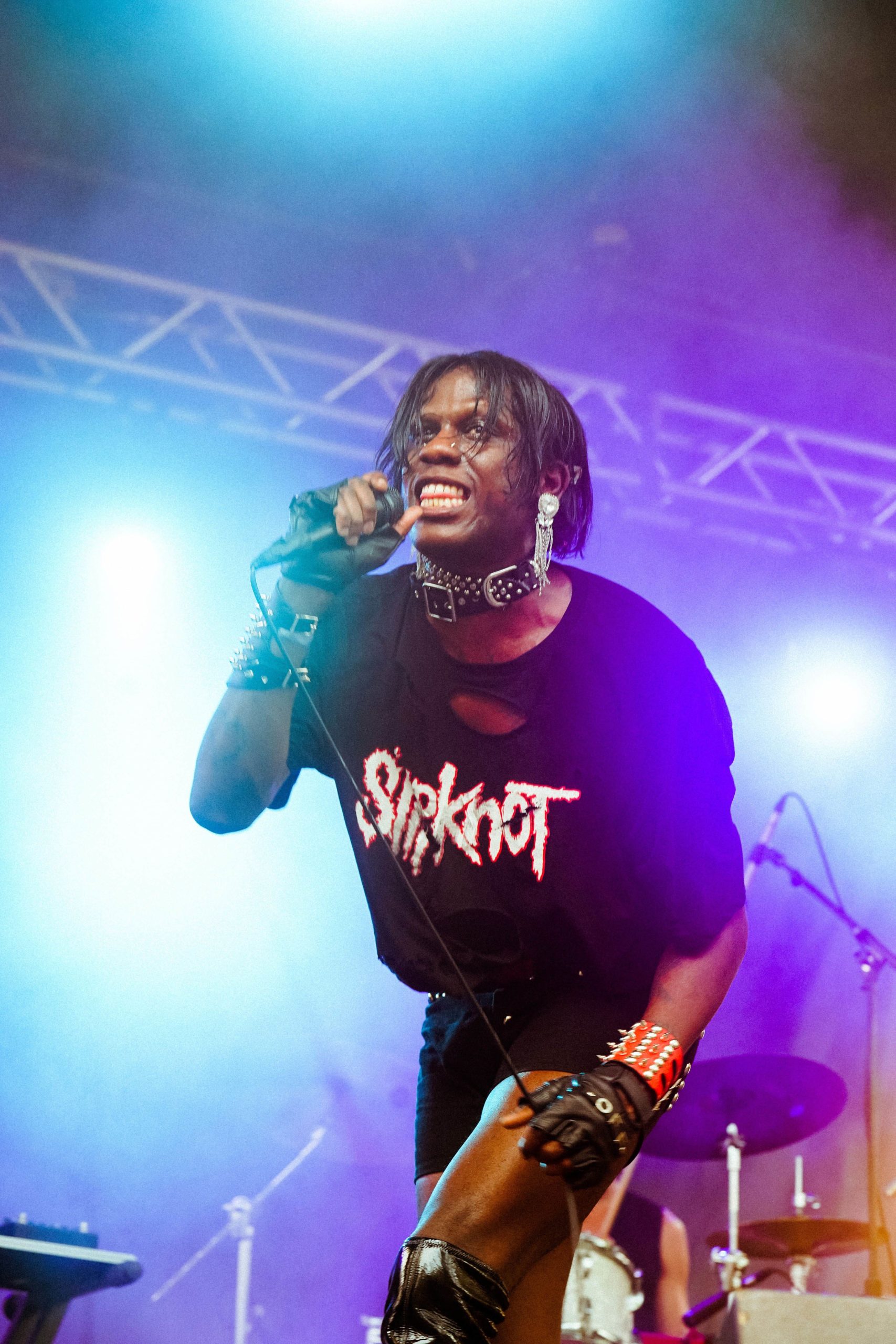 Photo Courtesy of Alexa Viscius, Pitchfork Staff Member
"…everyone, including me, was yelling "five more minutes.""
Mairead: If I had known how amazing Yves Tumor was I would have been at the blue stage an hour early to get against the barrier and have bought the after show tickets as soon as possible. Absolutely blown away by the rock vocals with amazing guitar solos and synth. Yves has amazing audience interaction and security had to hold them back from fully joining the moshing crowd. Yves Tumor was probably the best band I discovered because of Pitchfork. They ran right up/over their time slot and everyone, including me, was yelling "five more minutes". 
Sam: Similar sentiments to Mairead. I sorta pushed my way to the front next to this heavily intoxicated dude no one wanted to stand by anyways to feel the full weight of this performance. The blows my shoulder suffered were worth it completely. Yves lit up the stage, and I am genuinely obsessed with them now. They blended chillwave experimental with occasional shreddinggg, and the crowd reacted accordingly. I will be seeing them again, as will, I hope, the entire music world. 
Andy Shauf
Mairead: I had listened to some of Andy Shauf during my pre-festival music binge. Great vibes and great crowd. If you have not listened to him before he reminded me a bit of Jack Johnson with more synth and a bit more melancholy tone. As someone who listened to the Jack Johnson Curious George album every night in 2007, he definitely gives me some nostalgic vibes. 
Sam: Andy Shauf is just some guy. But some guy who is a damn good lead for this indie rock band. He makes me want to set up a tent in the Michigan UP immediately, and go on a canoe expedition trip with Mairead. 
Cat Power 
"we'd like to think maybe that's what he's [Alan Cramb] doing post-presidency."
Mairead: Cat Power was definitely not what I was expecting when she walked on stage. She had a very casual but unique aura presence to her. At some point her voice reminded me of Stevie Nicks while at others Patsy Cline. Played a lot of cool covers like Frank Ocean. Her back up on bass, guitar, and keys reminded us a lot of Alan Cramb, we'd like to think maybe that's what he's doing post-presidency. 
Sam: Cat was DEEP. She was raw and real and sung from the soul. Her presence was also sort of intimidating, and there was a pretty apparent sense of nervousness from the band as they re-emerged from the pandemic to perform. But they sounded ON to me, in ways I wish they knew during the performance. Cat was an exteremently in tune, on point vocalist, and there was no shortage of tune perfection from the rest of the band. It was really fun to watch them play, and their tracks never disappoint.