@colekincart
"What did we just witness?"
As we left the smoke-ridden Lincoln Hall, my friend Jason turned to me and said those exact words.
It's not often you leave a concert scratching your head. The intensity of the confusion and potent emotion seemed to overpower the typical casual, lighthearted feelings after leaving a show. For many fans, this was exactly what they saw coming.
Hailing from Phoenix, Injury Reserve is a hip-hop trio consisting of members Parker Corey, Ritchie with a T, and the late Stepa J. Groggs. Similar to the likes of JPEGMAFIA and BROCKHAMPTION, their albums and mixtapes have garnered a reputation of pushing the envelope within rap and hip/hop.
However, with their latest release, By the Time I Get to Phoenix, things are very different this time around. Being made amidst COVID-19 wasn't the only thing that stirred the release of this album. MC Stepa J. Groggs, or "Groggs" for short, passed away this past June. Shocking the hip-hop community and Injury Reserve fans, many were unsure what the future of Injury Reserve would look like.
On August 10th via their Instagram, a statement was made regarding their newest installment: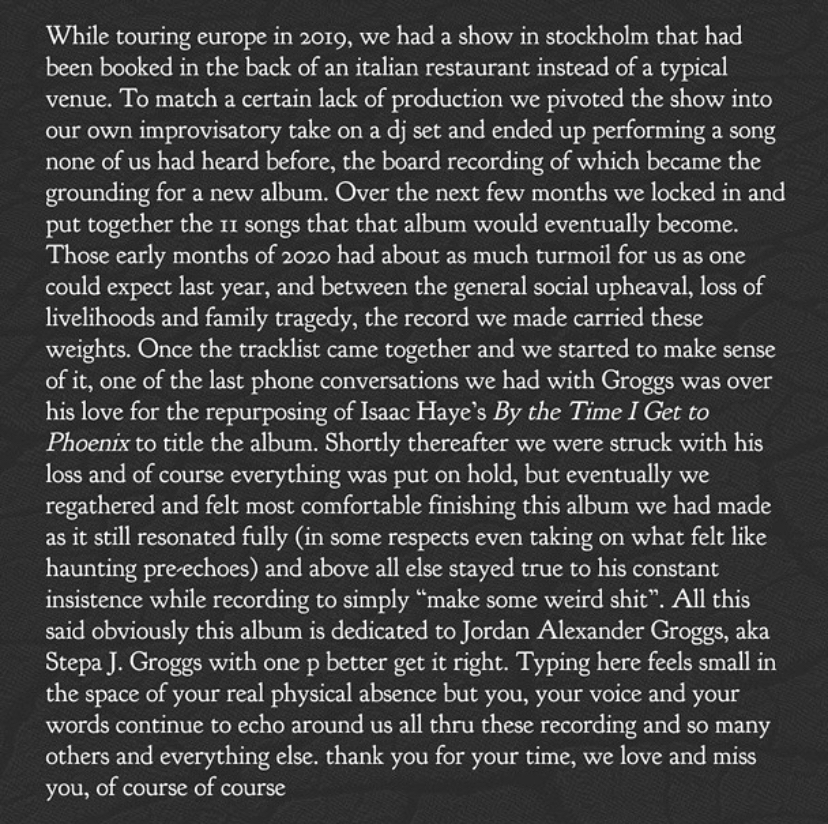 By the Time I Get to Phoenix is a harrowing, avant-garde exploration that winds fans through sounds and emotions that are equally unknown as they are familiar. Similar to the album cover depicting a figure floating in a red abyss, the album is a listening experience that does not feel grounded any anything. Ridden with confusion, anger, skepticism, MCs Groggs and Ritchie navigate the current socio-political climates with their rhymes and bars.
Going into the concert, many fans had zero idea what to expect. Chatter and debate regarding what the show would entail echoed through the concert venue prior to the performance. Without Groggs, many were unsure what the show would be like. Would it only be their newest album? Or would it be a collection of all their work?
Before taking the stage, a flashing red-light appeared behind a transparent sheet. As it gained intensity and strobe, members Parker Corey and Ritchie entered the scene. After a few minutes of what seemed like experimental music played, things slowly transitioned into the first song off their new album, Outside.
After a while, it seemed obvious they would be performing their newest album in full. Leading in one song from the next, fans were offered a new perspective on the listening experience. After the last track, Bye Storm. Bright white lights began flashing at an intensity that cannot be articulated. No one was sure if the show was over or not. Voice memos of Groggs soon began playing in an experimental fashion, almost as if he was still on stage. Parker and Ritchie came back on, announcing they'll play a few of the "classics", in honor of Groggs. Starting with ttktv, fans became immersed again, shouting and singing the lyrics to ttktv, All This Money, Oh Sh*t!!!, and Jailbreak the Tesla.
Overall, I still am unsure if I can fully wrap my head around Injury Reserve's new album. It is something that unveils it's message as I listen moren. With that said, seeing Injury Reserve live will be a show I will never forget. I will always remember what it was like feeling the energy of Parker and Ritchie as they dedicated their performances to Groggs.
Rest in power, Groggs.