@colekincart
"It feels so good to be going to concerts again." 
While we were walking out of the venue, I turned to fellow music director Sam and said those words. While most would obviously agree with that statement, Buck Meek's performance at Lincoln Hall was an extremely gracious reminder–for both the audience and the artist– how important live shows are. 
Supporting his sophomore album, Two Saviors, Buck Meek performed at Lincoln Hall this past Tuesday, November 8th at Lincoln Hall. Although released last January, due to COVID-19 conflicts, the band was not able to tour until this fall. That said, you could tell they were more than eager to soak up the opportunity to finally perform in front of crowds. On the road with him were close friends, Kidi Band, a four-piece melodic and percussive indie group based in California.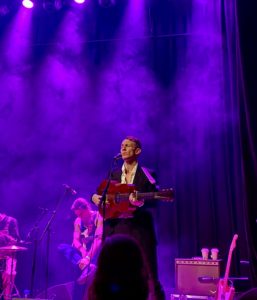 Buck, a member of the prominent indie act Big Thief, is no stranger to intimacy. 
As Buck and his bandmates took the stage, there was a noticeable humility in their performance. Each song was played with a modesty that allowed individuals to soak in each and every song.
Throughout the set, you could hear Meek's warm Texas roots flow from song to song. Each member looked like they were creating their own atmosphere, while allowing Buck to lead their own way. The instruments intersected while simultaneously having their own space to develop.  
What made Buck Meek's performance so special was his visible gratitude and appreciation for the return of live shows. In between songs, Buck continued to articulate how wonderful it was to be touring again and thanking fans for coming out to support. While watching him perform, I was gently reminded how lucky we were to finally have live music again. 
You can listen to Two Saviors out now!